Cash Management for SMEs
Investment Memorandum #2 - AGICAP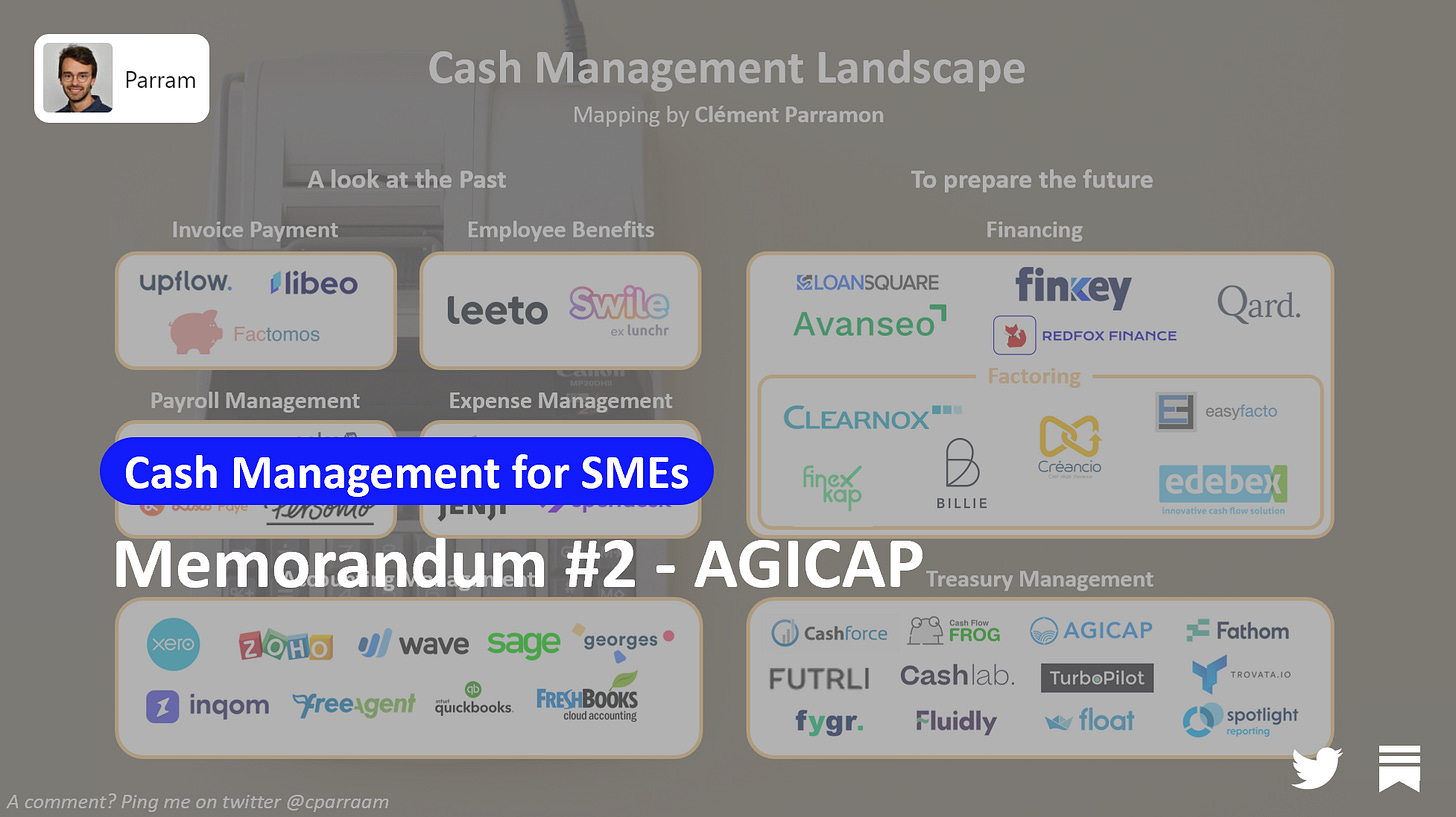 Hi, this is Clément from HUB612 👋🏻. Parram is a weekly newsletter about (underrated?) trends, topics, and perspectives on the Fintech Market. Today, I'm talking about cash management for SMEs!
It's been more than a year since I joined HUB612, working everyday to invest in promising companies carried by determined entrepreneurs.
I thought after one year that it was the right time to learn an alternative way to analyze investment opportunities. Thus I've been recently working with Clément Vouillon through its great project Memo Hub. I certainly have been inspired by his newsletter about memorandum opportunities.
That's why I'm sharing you a memorandum about AGICAP, a fintech startup from Lyon !!
Disclaimer: I'm completely unaware of what's happening from the inside, but this doesn't stop me from having a point of view on their business ✌🏻
______________________________Feel Free to subscribe!____________________________


Agicap is saas solution providing to SMEs a global and digital treasury solution. For most of those SMEs, cash management is a headache. The tool allows you to view available cash in real-time, to automate medium or long-term cash flow forecasts, and to evaluate the impact of different strategic scenarios on cash flow (recruitments, strategic investments, etc.) thanks to algorithms.
___________________(👎🏻: Problem | 👍🏻: Awesome | 🤔: Question) __________________
Need
As soon as you launch a company, cash is king. You can't just run out of it. It's your fuel, and you must be capable of managing it. More precisely, what is being constantly and regularly monitored is the working capital. This the difference between a company's current assets (what the business owns) and current liabilities (what the business owes).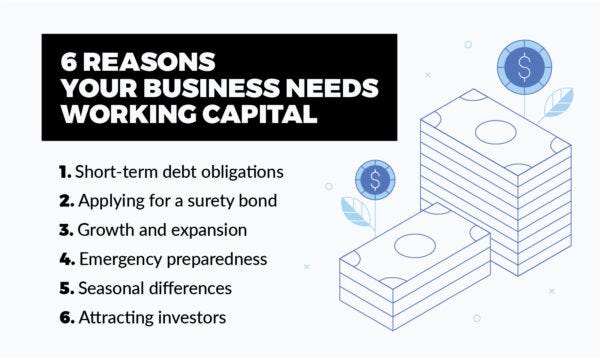 Poor monitoring of your working capital will, unfortunately, end up in the cessation of the company's activities. In France alone, 20,000 French small businesses disappear each year for this reason.
Thus companies have started to implement and use financial tools to run their business. Put it simply, on one hand, we have accounting tools, analyzing the past. And on the other hand, we treasury management tools, forecasting the future.
Companies of this size look for simplicity and readability of data, centralization of features, integration with bank accounts,...
Here are the main types of customers and what they see as valuable in AGICAP.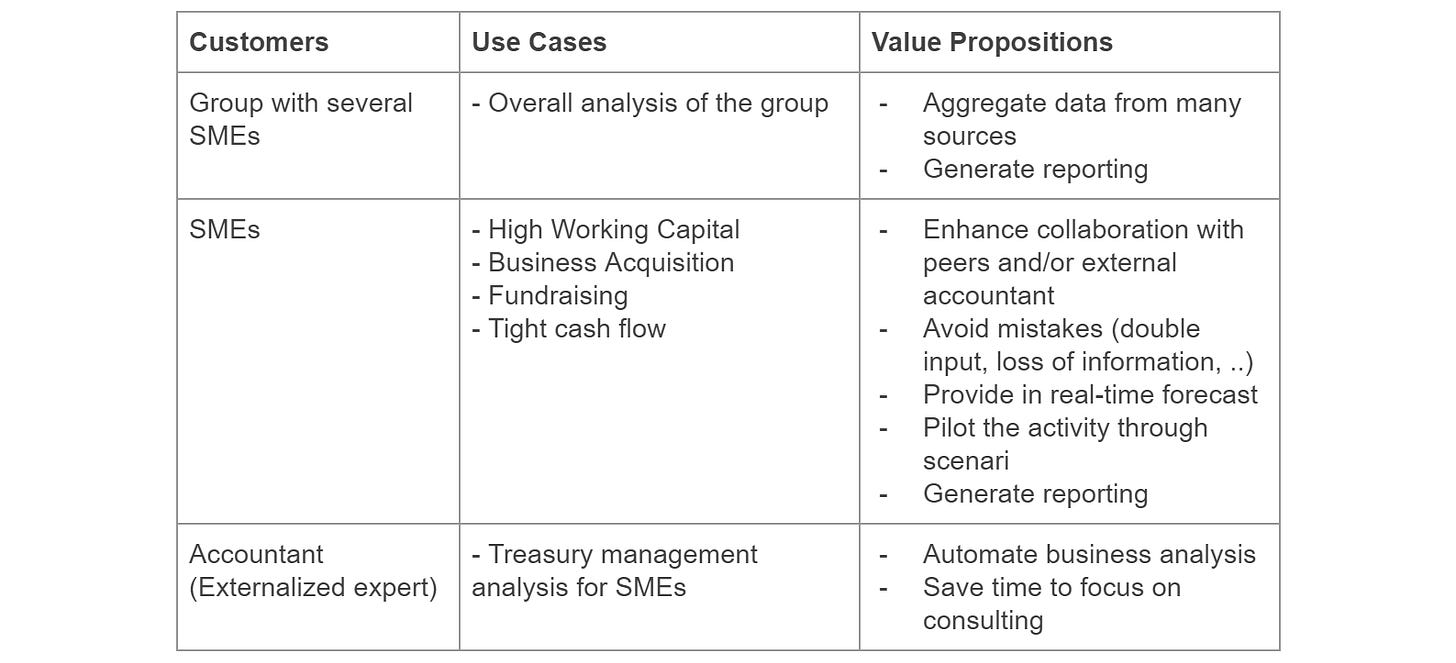 🤔 : At the moment, AGICAP seems to be focused on enterprises, and not so much on accountant firm. Whilst, the accounting market is currently under mutation (see below). I guess they haven't reached the concentration point. But, it seems they've already built a distribution network (probably accounting firm?) across France. Surely a first step toward the accounting market.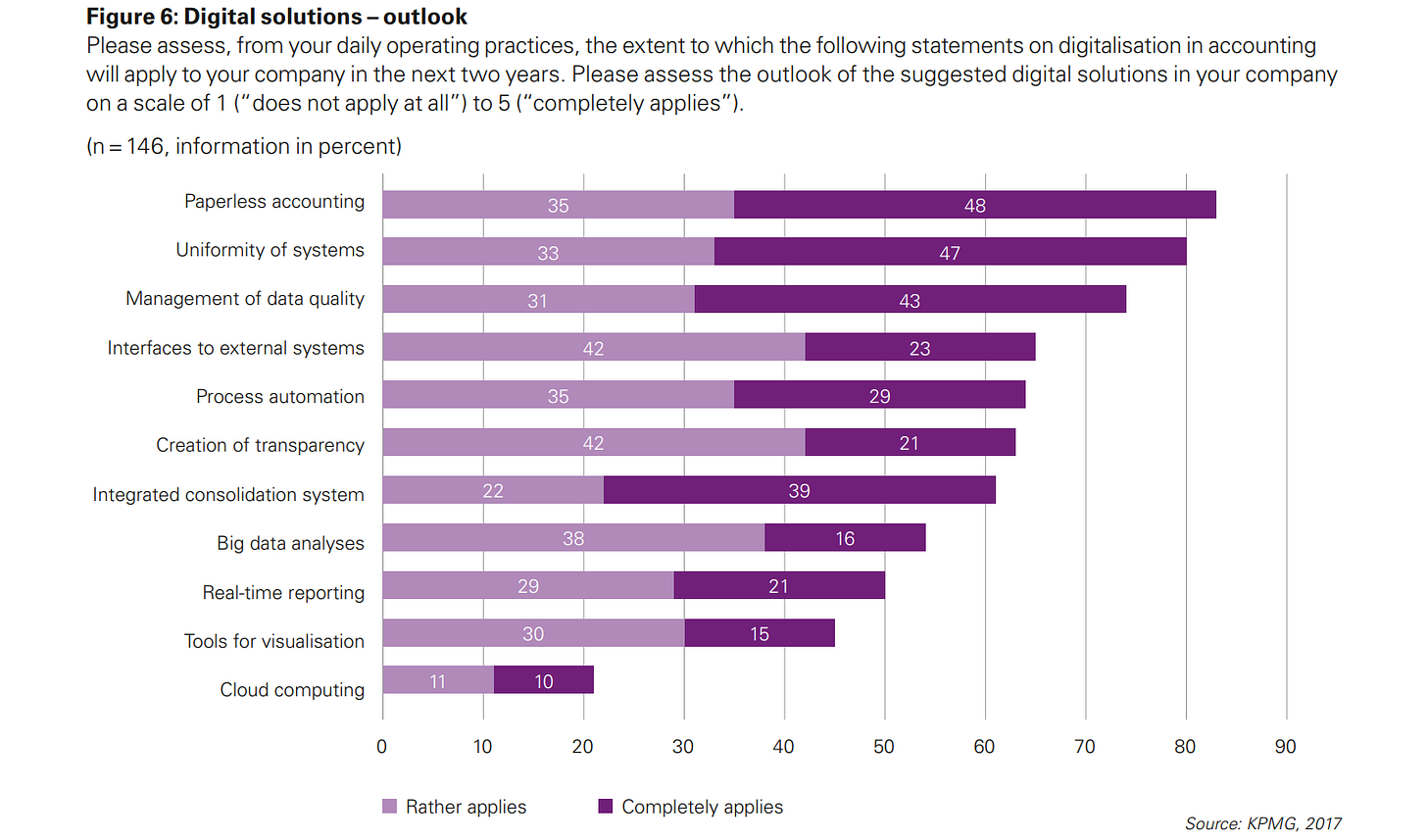 Market
The Accounting Software Market was valued at $ 12.01 bn in 2019 and is expected to reach $ 19.59 bn by 2025, at a CAGR of 8.5% over the forecast period 2020 - 2025. In the last decade, the financial and accounting software solution market has witnessed numerous changes. One of the biggest changes is the cloud-based offering.
👍🏻 : The market is under-digitalized. Excel remains one of the main competitors, but the value proposition is too limited (even though they've launched Money, see my last newsletter! :))
👍🏻 : Integration with other online applications such as automated billing features or bank feeds, and SMEs collaborating with e-commerce players are expected to drive the accounting software market.
👍🏻 : The adjacent market of accountants and accounting firms is a great opportunity for growth. It is segmented between small firms (<10 employees), medium-firm (up to 1000 employees), and big firms (typically the big four). For instance, in France, the small firm segment in particular accounts for 65% of the global accounting workforce and generates 33% of the turnover (33% of € 11.5 Bn in 2016). This segment is especially low digitalized and would gain in value added to their clients if they could automate some parts of the recurrent job. Also, the recent PACTE law in France makes it even more interesting to address this market because of the rise of the thresholds at which an accountant is mandatory for a business. Thus, the urgent need to
To make their market more tangible, according to Statista, there were 25 million SMEs in Europe in 2018. Knowing that the product is priced from 79€/m to 799€/m (source), here are my guesses on the potential of this European market :

🤔 : I wonder what are the triggers for a micro-company / entrepreneurs to get a better return on investment from a dedicated software rather than an excel sheet. Their need must be quiet simple and their motivation in favor of a treasury tool must be non-existent. In my opinion, AGICAP isn't targeting micro-businesses. The European TAM would be around 4.5 Bn €.
Product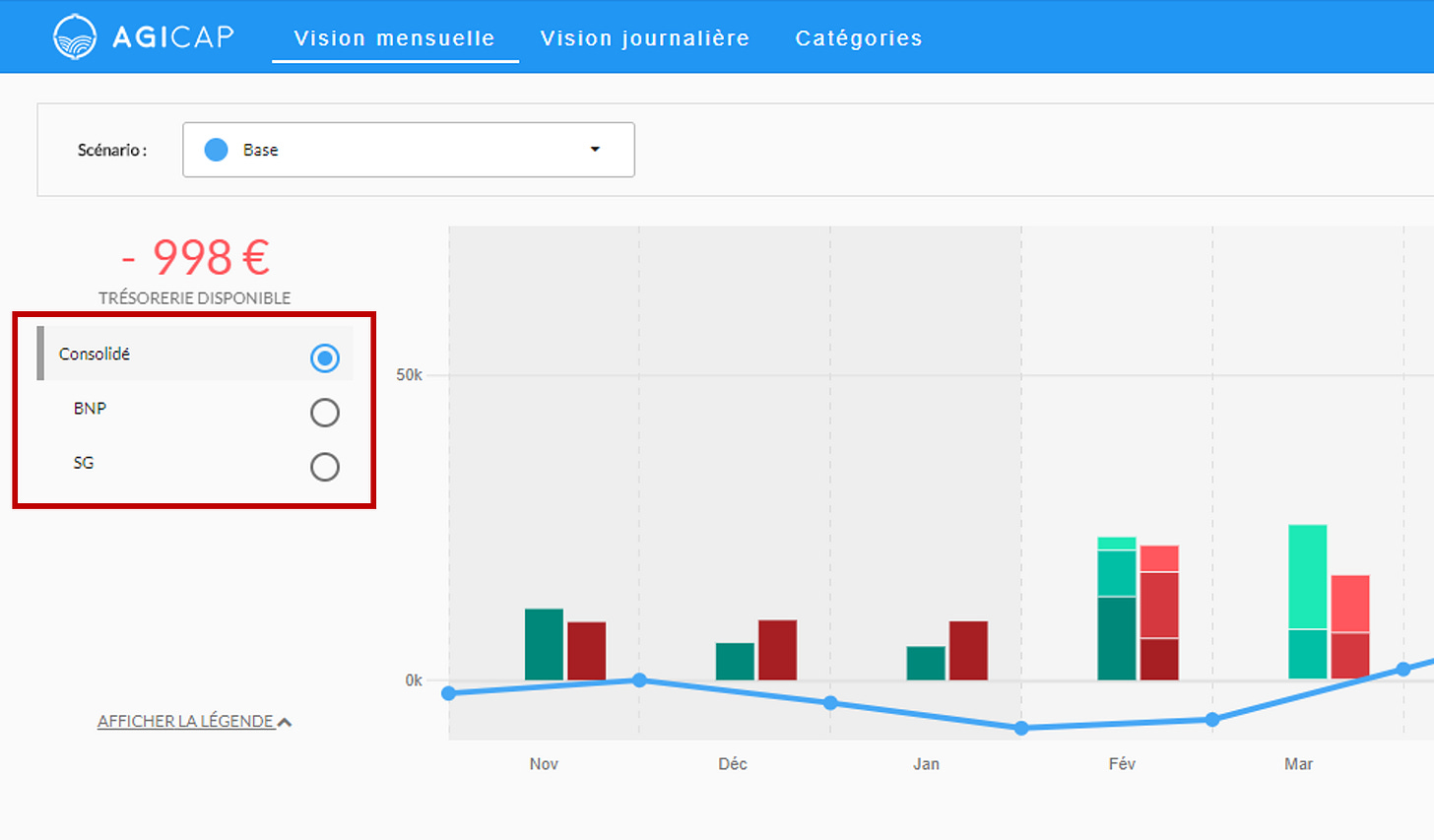 Once connected to the banks (immediate integration with 300+ banks) and the import of historical data (connect with 150+ accounting software, payroll, invoicing, ..), the interface shows you the treasury projections on a daily, weekly, monthly basis. Interestingly, the user can create scenarios and see their impact on the forecasts displayed. Finally, the user can make dashboards out of it and export reporting documents.
From what I saw from their customer review :
👍🏻 : Overall customers seem to like the value brought by the product and really appreciate the support from the team. Customers now use it to pilot their business.

🤔 : It doesn't seem to be a self-serve product. Actually, I guess that it requires some work from the customer success team to onboard a new customer, notably for interconnecting with other tools (specific import). How scalable is that?
To go further, here are my takes:
👍🏻 : Retention must be high as Agicap is such a pain reliever and because there is a high switching cost (either in time of money and time). Already 2000 clients!

👍🏻 : Most of the customers use the tool on a daily basis (cf the reviews)

🤔: Data security and privacy concerns may hinder the growth of the accounting software market. What is Agicap doing on this topic?
Team

This a top-notch fintech from Lyon, but I've met their founders yet!
📩 We should meet sometime?
After checking the LinkedIn profiles of the three founders, I could find out that:
👍🏻 : Two of them had a been working for an executive consulting firm dedicated to the financial services sector for a few years

🤔: This is their first startup creation
The Founder/market fit comes from their experience as a consultant, where they saw that banks didn't have any offer to help SMEs manage their cash. I buy that.

During my research, I haven't identified any mapping on such a sub-market. I thought it was an interesting exercise to make one from scratch. Here is my first draft!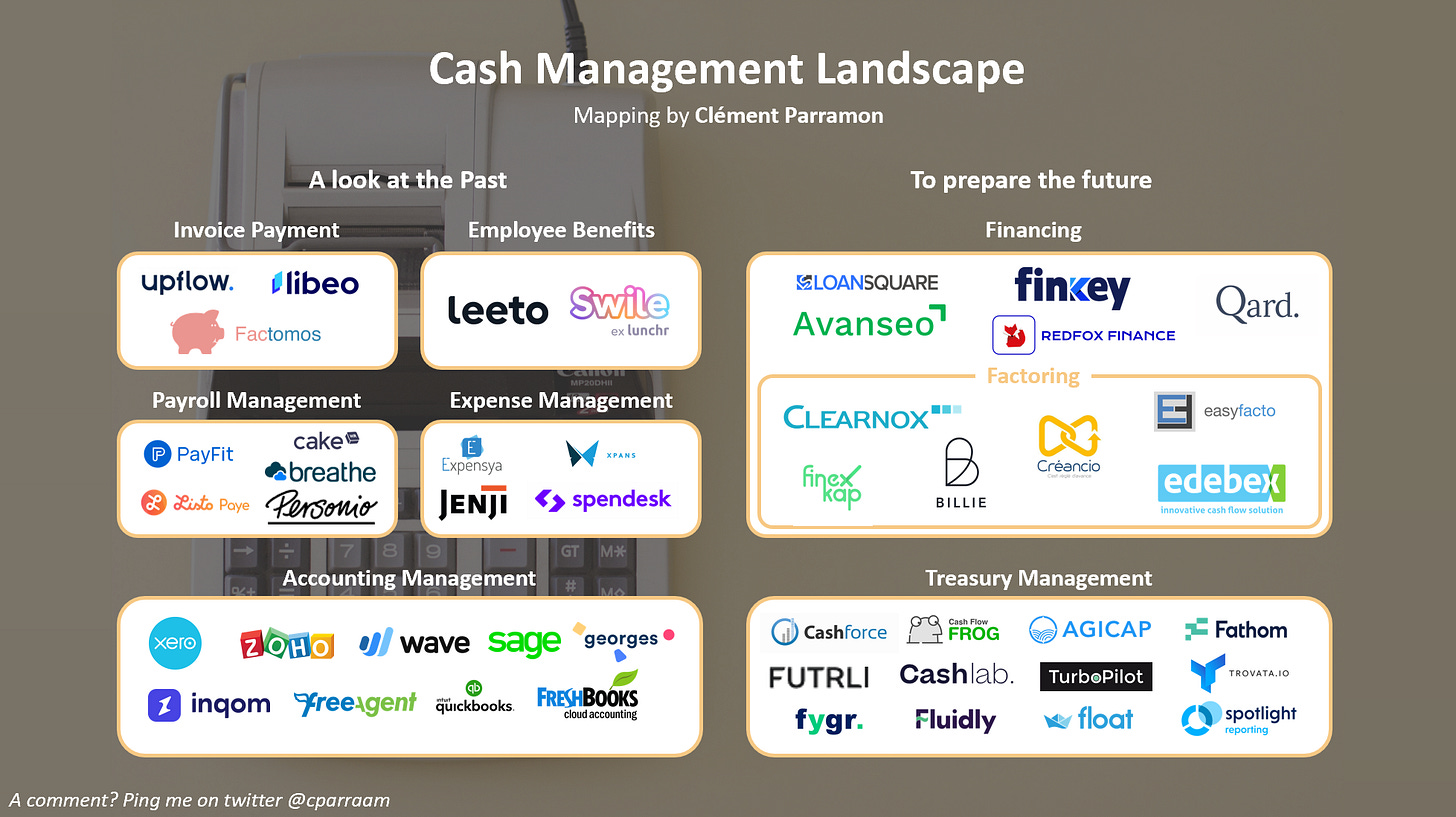 Of course, I'm missing a lot of companies. Please, ping me if you want me to add you to the list! I'll keep updating it :)

# News 1 - They've recently raised € 2.4M!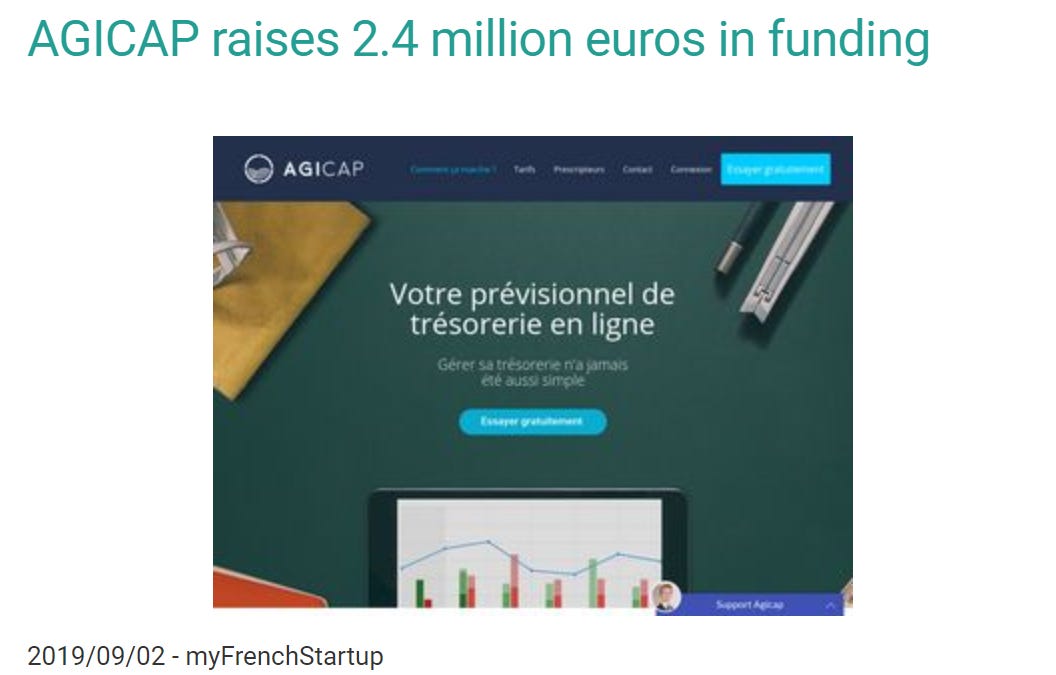 This 2.4 million euros round was led by BlackFin Capital Partners & Kima Ventures. Well played folks! This round buys them 18 months of development in France before launch in Germany and Italy. Treasury management is a global problem, no surprise to see them expand after their recent development in France.
# News 2 - They used the covid to get leads through webinars
Every unexpected challenge is an opportunity. The team, from what I saw online, got a lot of reach with their webinar on treasury management in the time of Covid-19. Well played, this helped a lot of entrepreneurs here in France.
Do you want to see the Replay?
# News 3 - They are recruting A LOT!


In a recent interview, I've learned that they were forecasting 60 recruitments this year. Foreseeing a team of 70 people by the end of the year. Modulo the effect of covid-19, which seems relatively not affecting their business, on the contrary, we can expect a few more recruitments. Just check their job offer page!
# News 4 - Cash is king
They've recently launched a community to discuss cash management issues called Cash is King (on a dedicated Slack). Great inbound strategy! It makes sense as their target have an ACV between 1k€ and 10k€. You can join them if you want!

I hope you like this new format! Feel free to talk about the newsletter to your peers ;-)
Please do not hesitate to provide me feedback on what I'm creating every week, what I missed, what I got right, what was a discovery for you, what is still unclear, ..
❤️❤️❤️Drop a heart if you've learned something❤️❤️❤️