Sorry, that's excluded
Market Review #8 | Travel Insurance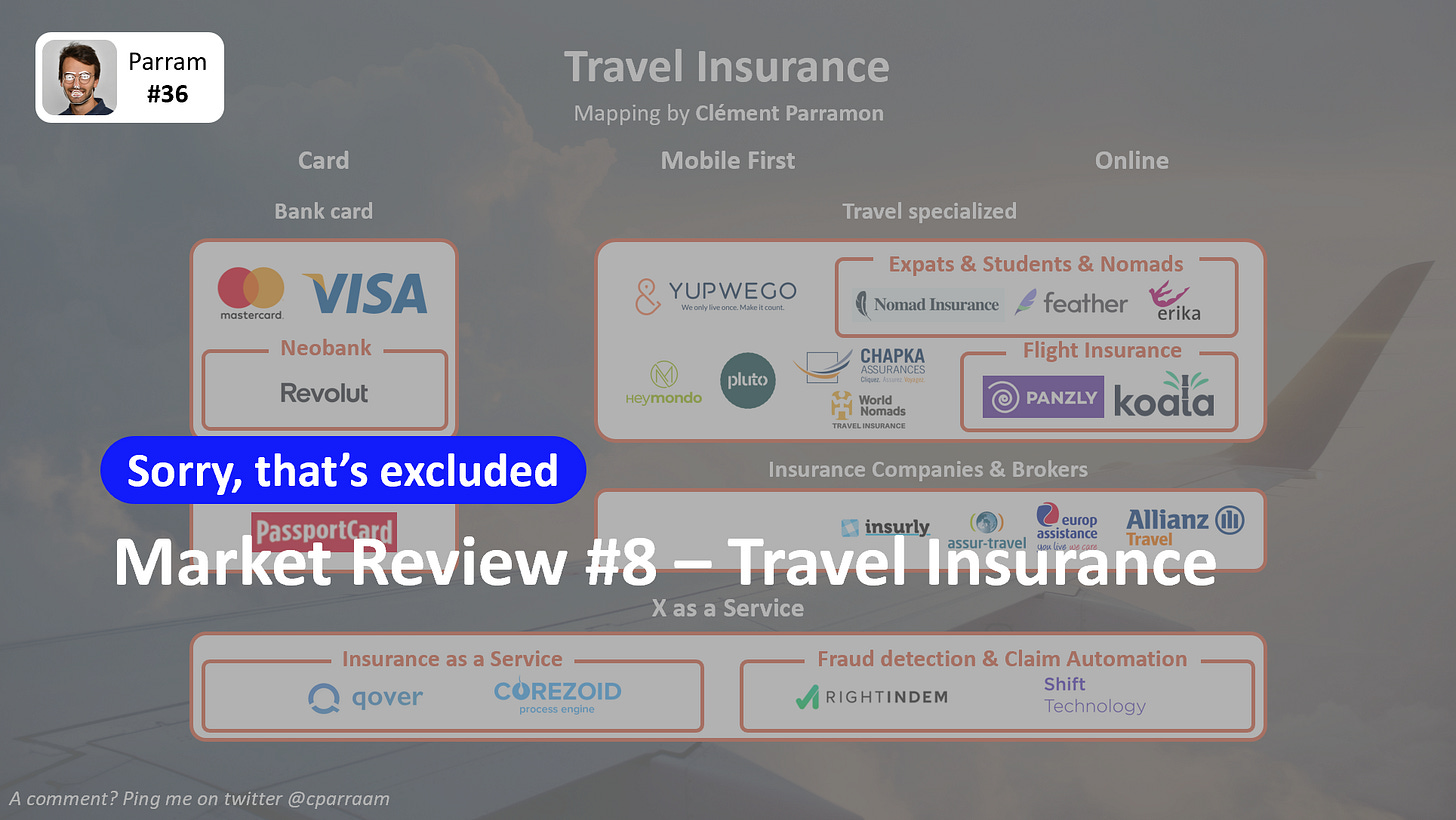 Hi, this is Clément from HUB612👋
I hope you all doing great. I come back from two weeks in Puglia, a long time since I took a break! Apart from the journey itself, wonderfull place by the way, I experienced out how complicated traveling could be in those pandemic times. Yet, from difficult times rise opportunities! Let's look into travel insurance (what are thoooose ?)
Each week I cast light on different topics related to Fintech & Insurtech through 1) Market Reviews 2) News of the week 3) Investment Memorandum. The format might evolve soon! I hope you find it usefull! Please feel free to provide feedback :)
A brutal stop in a fast-developing industry: The Travel Industry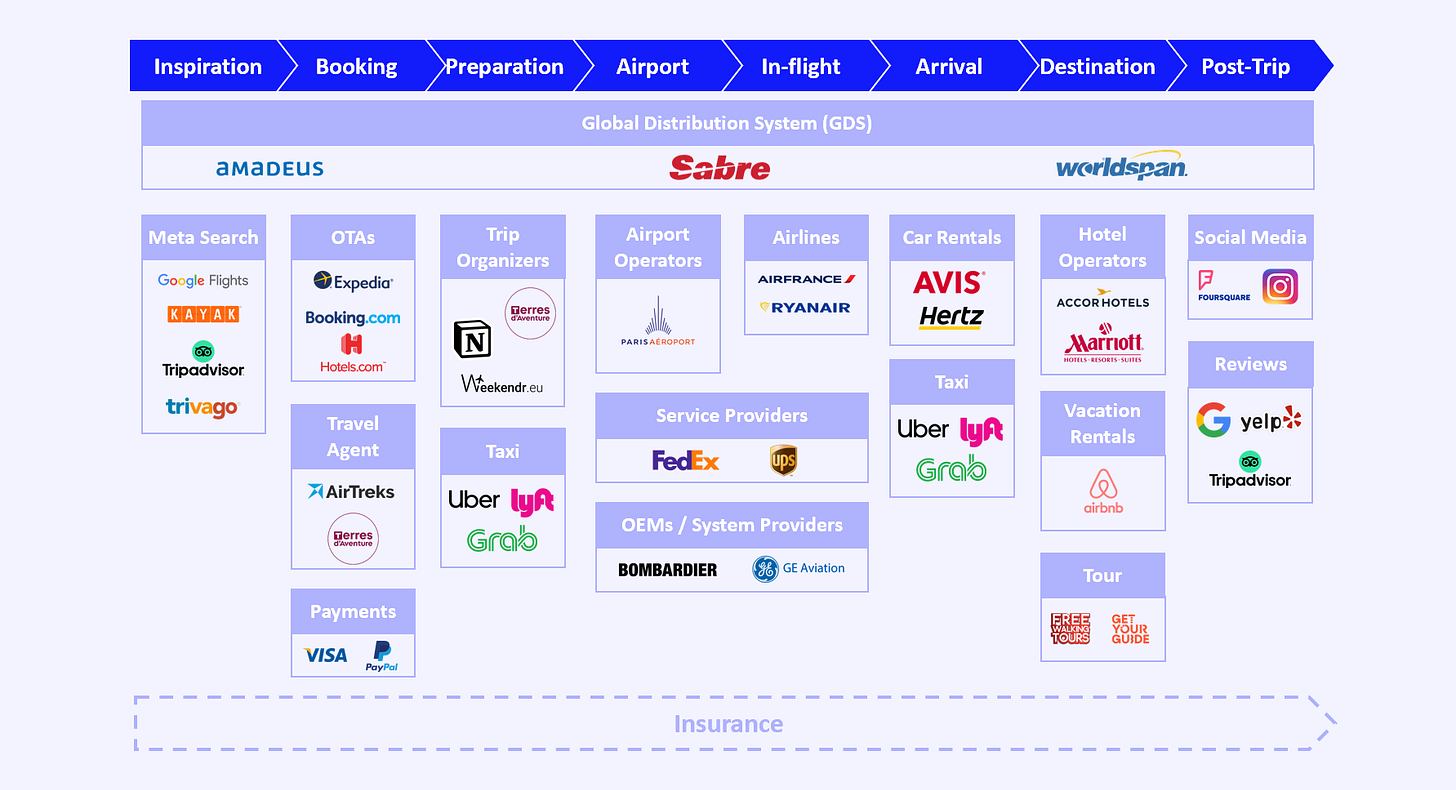 The travel industry is unsurprisingly large. The market worth $5.29 Trillion (2017) and grew at a CAGR of 3.58% over the last 10 years. It includes a wide range of players briefly displayed here above.
This impressive growth over the past years is due to:
A growing trend for travel. Since 1980s, the air traffic doubled every 15 years. That dynamic has brought a lot of stress over the ecosystem (and their adaptation) but also great opportunities if these players succeeded in capturing the growth.

The rise of digital consumers. There is an ongoing fight over the capture of the new digital consumers. New entrants slowly but surely disrupt the value chain while the incumbents try to adapt to the new digital paradigm. This industry is, by the way, a leader in e-commerce maturity.

The rise of intelligent automation. Leveraging on technologies (either software and hardware), players among the whole value chain have completely reshaped the customer experience. Powered by an increasing amount of data, systems seem to be frictionless, with an increasing safety/security, resulting in customers happier than ever.
What interests me specifically here, is travel insurance. A $19.2 billion market in 2019 and is projected to reach $39.3 billion by 2027, growing at a CAGR of 17.4% from 2020 to 2027 (we'll talk about covid, no worries). Travel insurance covers the expenses incurred and minimizes the risks during travel. It's a must-have when it comes to trip cancellation due to a medical emergency, loss of baggage, evacuation due to medical condition or hijack, and loss of travel documents, among others.

The pandemic stroke down lots of ambition in the travel market. Over the course of this summer, we've seen massive layoffs from companies in this market: Airbnb (1900), Groupon (2800), Booking (4375), Yelp (1000), TripAdvisor (900), .. You can find ongoing market monitoring here.
This is undoubtedly a strong slowdown in the market dynamic.
Travel Insurance Disruption
Or should I say, travel insurance meaningful disruption?
Historically, travel Insurance has been a non-mandatory product. Often poorly understood by customers or badly explained by insurers:
"My credit card includes travel insurance, so I don't need another policy."
Here, for instance, many credit cards do not offer protection or reimbursement if your clients are injured or sick while on their trip, and most will only provide cover if the entire trip was booked with the card.
Usually, when thinking about vacation, all that we care about is enjoying, taking those great Instagram pictures, get straight to the fun. Yet, first insurance is an important part of the preparation process, and only a few of us think of it.
For those which are insured (directly with insurers or indirectly with credit cards or bundled offers) very few know what they are insured for. Actually, you think you are insured for everything, but there are loopholes everywhere in your contract. Insurance companies overly complicate things and you discover it when you really need it the most. Imagine the customer satisfaction 🤯
Those last years, there was a race at the bottom on price driven by price comparison websites but this result in a lot of people having cheap insurances that were useless.
But more recently I'm seeing shifts in the market:
We moved from one size fits all offer (the same offer for all clients), to personalized and modular offers (build around the customer needs). If you give a product your customers need, they will pay for that. They don't look for a huge and complicated clusterfuck of policies.

The customer relationship has evolved. Companies try to be much more upfront with the customer: "what do you need for your vacation?". Don't oversell, sell what matters to your customers.

Thus we are heading toward increased transparency in the industry. Let's face it, no one read policy. Yet claims are still (unfairly?) hinder business development. We've arrived in a state where insurance players have to educate customers as much as possible as if they were explaining policies to a 7y old kid. Because if people understand what insurance they took, by reading the simplified documents, the number of claims will fall.
Also keeping it simple means taking away the pressure and inability or reasons for not going away (and giving you the peace of mind you expect). This is especially important nowadays.
Why is it hot? 🔥
Here are the few travel insurance trends and opportunities I spotted, on which most startups are working right now.
Fundamentally, people still want to travel. They've simply been nailed down because of the recent complexity of traveling.
There is a shift to domestic travel. As it's has become complicated to travel abroad because of (i) governments imposing lockdown (ii) countries requiring PCR test or medical insurance coverage a condition for border entry (iii) … Thus, we've suddenly gained interest in our own countryside (that's a good thing in my opinion).
To date, Starr Insurance Companies has seen a year-over-year increase of 528% in the purchase of U.S. travel policies. It clearly indicates new habits when it comes to travel.

New demand for travel insurance. Surprisingly, young travelers (less than 35y old) are now buying insurance. This is the result of (i) travel influencers and social media coverage increasingly portraying travel insurance as a must-have (ii) a digital distribution highly developed (iii) a fear related to the expenses of covid-19 contamination (#medicalcoveragefirst)

Cancel for any reason has become a necessity for most travelers. If it wasn't already obvious to you, traveling is expensive. In times like this, even though you booked your trip, you can't say for sure that (i) the flight plan won't change (ii) the flight won't get cancel (iii) you'll have your PCR test 72 hours before the flight (iv) you won't have covid thus they won't let you get into the plane (iv.bis) you'll be quarantined upon your arrival for days/weeks.
That's paradoxically a great time for insurance players as all customers are afraid of making an X00€ expense and lose it completely. Now, more than ever, travelers consider taking insurance.
Look after them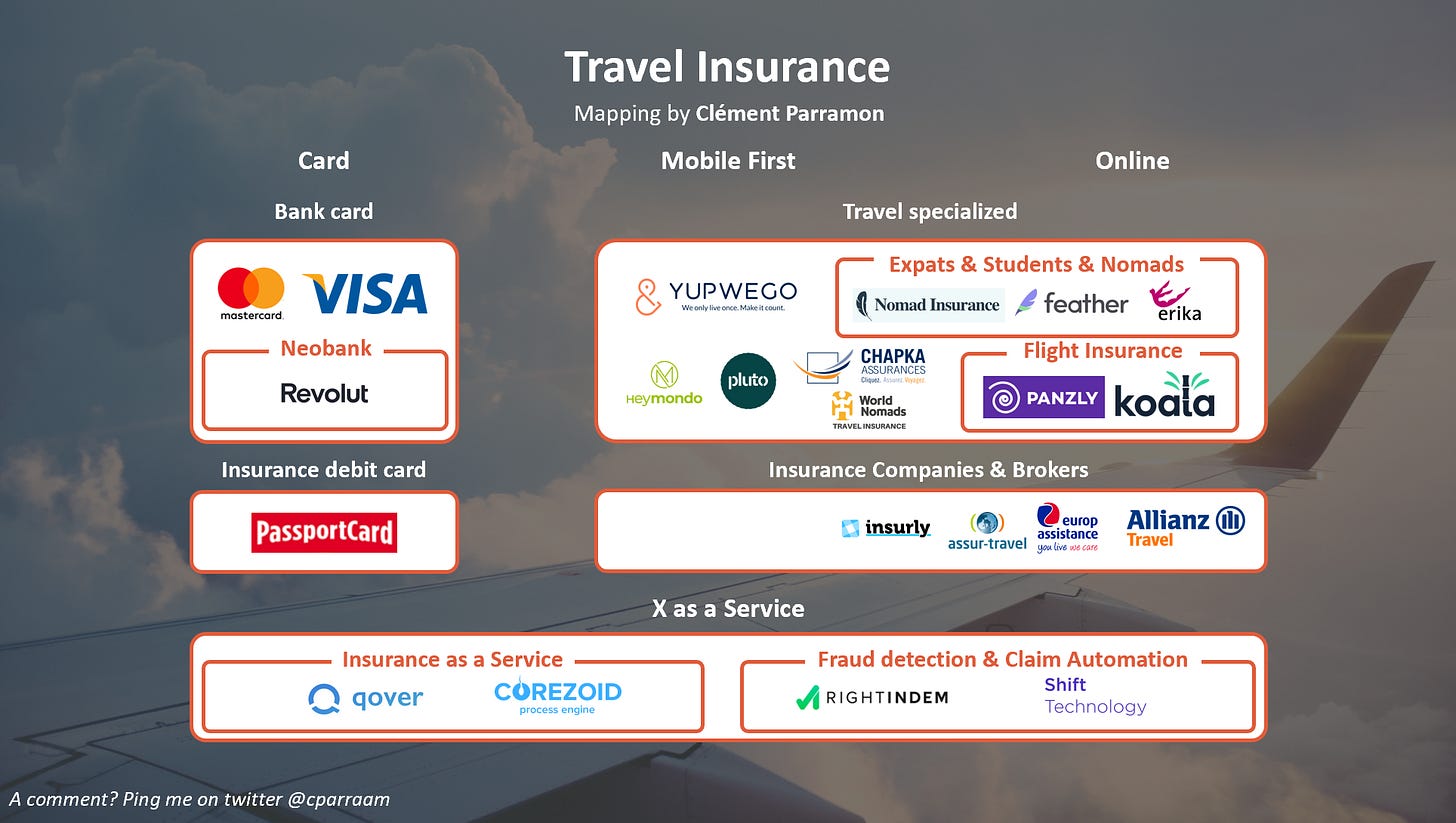 Well established players have failed to address our needs for decades. We, as customers, have high expectations toward insurers and this is challenging for new entrants because they don't have the comfort to fail their customers. One false step and their image can be damaged forever.
Startups developing in this market provide benefits for many players (travelers, insurers, distributors of travel insurance). Here a few notes on that.
For the Traveler (B2C)
tailored coverage that (finally) fit travelers' needs.

a new and simple real-time service on a smartphone. Some of those now include a location-based tracking that improves the customer experience as startups can dynamically suggest new (additional) offers according to the location. Others include emergency medical care and assistance based on location.

immediate reimbursement to customers in case of certain events such as the need for medical assistance or flight cancelation without them having to pay first

early warning systems to bring awareness off and avoid hazardous events such as political demonstrations or terrorist attacks
For the Insurers (B2B)
increasing customer engagement with smartphone-based offerings

reduced administration and claims handling costs for insurers and assistance companies with digital processes and automated actions

reduced claims losses with the use of algorithms and data analysis for assistance and fraud prevention
For Distributors of travel insurance (B2B bis)
speed to market with an out of the box technology solution (notably app, location technology, UX, .. )

seamless and integrated online and physical store solutions

handling compliance and regulatory issues
Valin'Up [Partnership for Due Dilligence]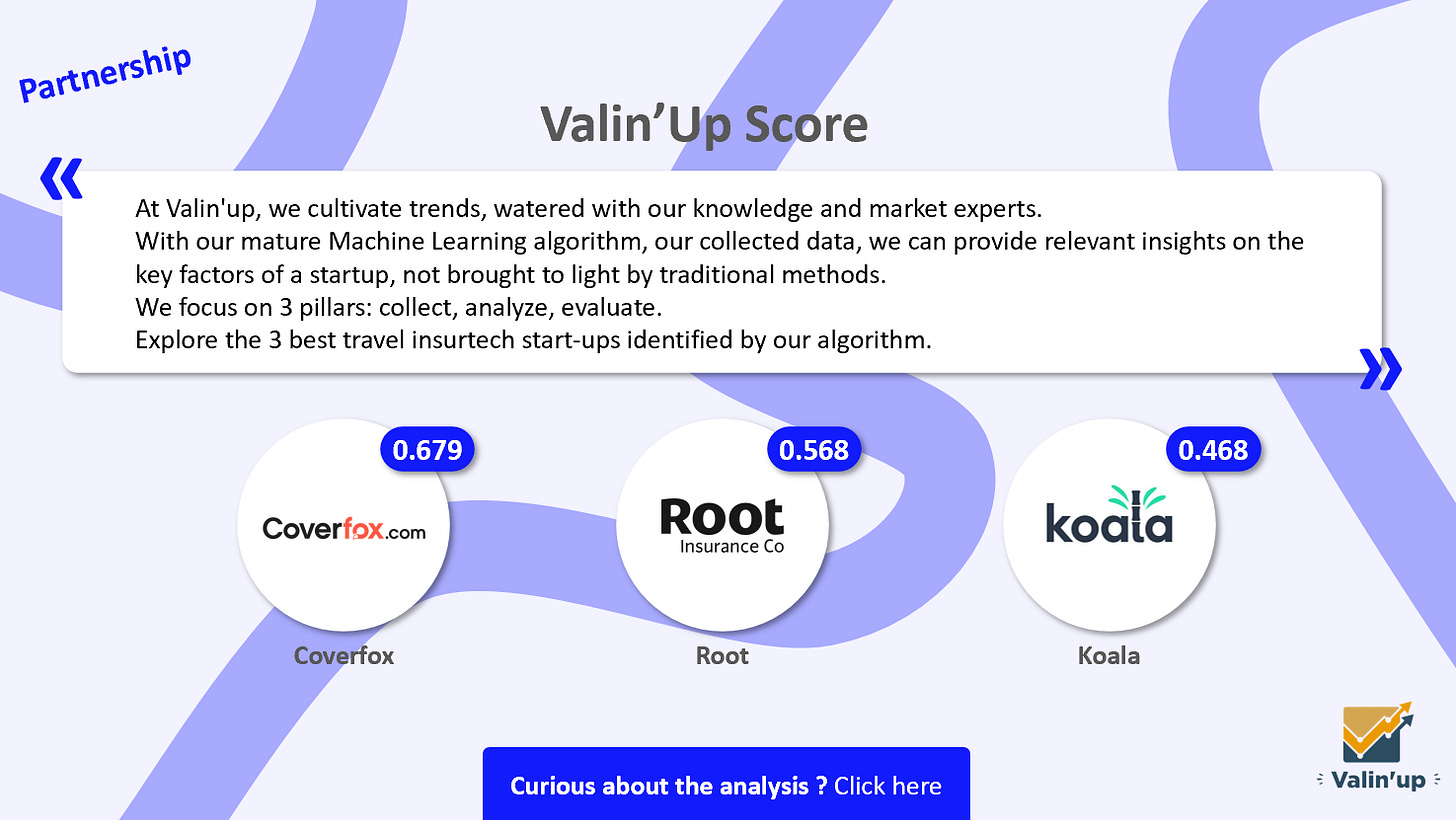 For this issue, I've been in touch with Valin'up, a young French startup using data science to identify some of the most promising startups in the travel insurance market. I let you check their interesting work by clicking on the link right here above.
Did I miss something huge?
There is a lot happening out there!
If there is something worth reading, do let me know by replying to this email :)
See you next week 👋
If you've enjoyed it please show some love to 

the thread

 on Twitter
❤️
---
Previous issues (wait, there's more!)
---
See you next week 👋
📧 I'm clement.parramon@hub612.com and @cparraam is my Twitter
Ps. If you like what I'm doing with Parram please feel free to share it on your social network of choice. Also, I'd appreciate it if you forwarded this newsletter to a friend you think might enjoy it ✌️