Culture is the new asset
Investment Memorandum #6 - Masterworks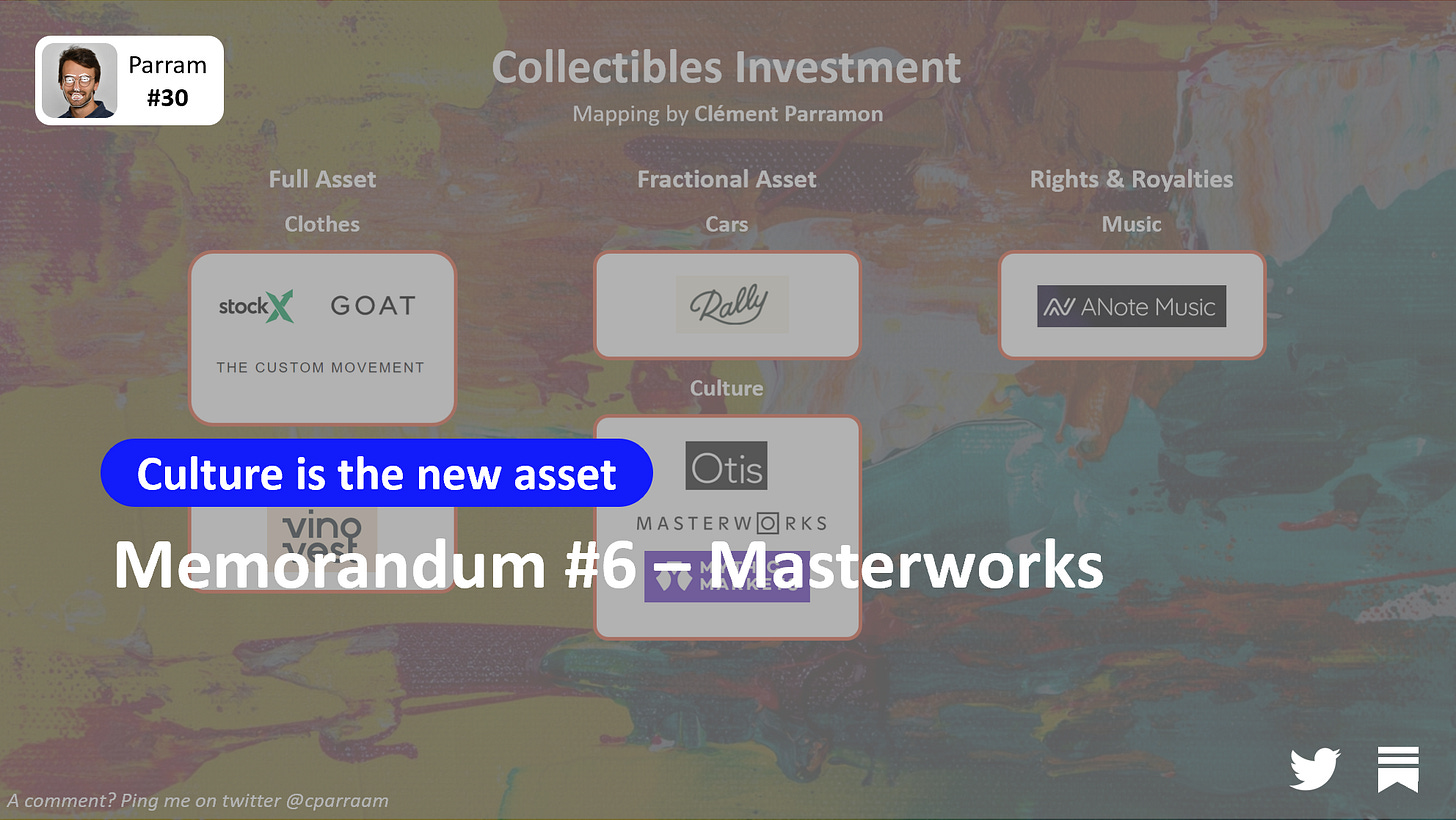 Hi, this is Clément from HUB612👋
You may have noticed by now, each week I try to cast light on different topics related to Fintech & Insurtech through 1) Market Reviews 2) News of the week 3) Investment Memorandum.
I hope you find it usefull, Do let me know your thoughts by replying to this email :)
Two weeks ago, I wrote about investing in everything as I saw an increasing number of investment opportunities in alternative assets. Some people invest in equity, bonds expecting an important return on investment. Yet, some hidden and untapped stock markets are gaining traction, with unbelievable returns (and risks).
As I came across Masterworks, I wondered if I would be able to invest in a Georges Seurat or Jean-Michel Basquiat painting (love their work!), what would it means in term of asset management and what would be the return of it?
Here comes the memorandum ride, get in there!
Disclaimer: I'm completely unaware of what's happening from the inside, but this doesn't stop me from having a point of view on their business ✌️
The Memorandum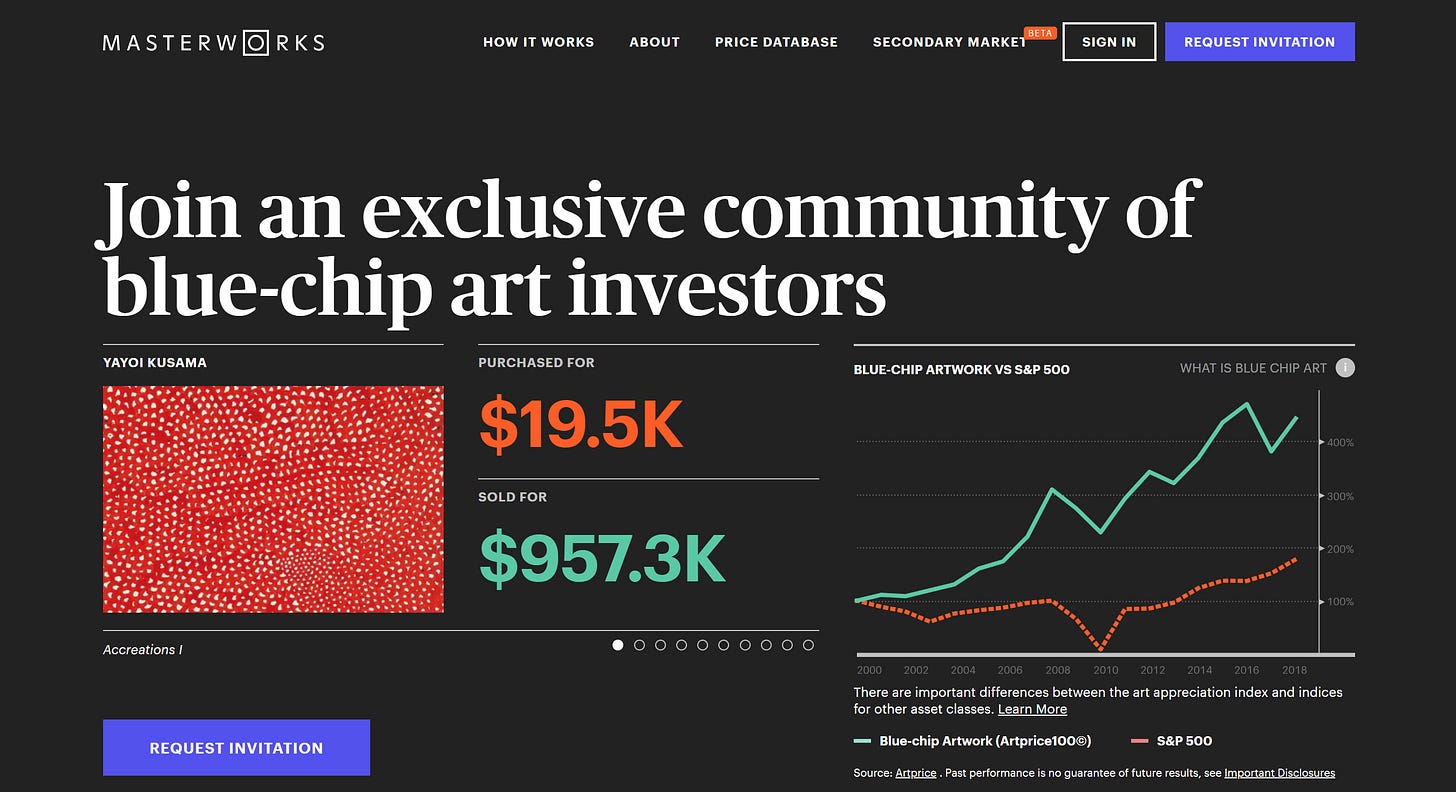 Masterworks is an investment platform enabling a wide range of investors to invest in fine arts. People have been trading arts for centuries, yet low accessibility prevent this class of asset fro being largely traded.
The company turns the artwork in fractional shares that can be traded on a secondary market with zero trading fees. Pushing the concept of culture is the new investment asset.
___________________(👎: Problem | 👍: Awesome | 🤔: Question) __________________
Need
Let's face it, investing in fine arts is costly. Yet fractional ownership has lowered considerably the barrier to entry. With a few bucks, you can own 1/1 000 000 th of a fine art painting.
"Ok Clément, but why would I invest in fine arts?"

I personally think the two first personas are most of Masterworks clients.
👎: For now, the promise of making investing easier is mainly for US investors. The experience from abroad is way more complex (you must inform yourself about and observe any restrictions that may be applicable in your country relating to your participation in a Masterworks' offering)
👍: I truly believe anyone can reach a point where you would invest in something that resonates with you. As you invest in streamers, you invest in green financial products, why wouldn't you invest in the ideas carried by an artist and its art?
🤔: Remember the cellars at WineCare Storage damaged during Hurricane Sandy? I think storage should be much more transparent
👎: They plan to buy and hold the piece for approximately 5 years before selling it. How big their working capital is going to be? It's a super cash-intensive business (well it depends if they buy famous or infamous art pieces), not mentioning the storage + the gallery costs.
Market
As an order of magnitude, Christie's and Sotheby's auction (the two famous auction houses sell more than 80% of works priced over $1m) sales worldwide from 2003 to 2017 rose from $1.27Bn to $8.23Bn with a CAGR of 14%.
👍: This is mostly driven by the digitalization of their offer as each of them has set up an online-only auction platform. Quite a big step forward in terms of strategy as it has pushed the auction houses to hire a bunch of new profiles (marketing, content strategy, .. ). This is also a way to attract a younger generation of clients
"We want to create more channels and more ways for our collectors to be able to engage in and buy things that they love"
David Goodman - Sotheby's executive VP for digital development and marketing.
Some estimate this asset class market @ 1.7 trillion $ (how much zero is that?)
The price of art is subjective and depends on the willingness to pay in something. Quite hard to make a bottom-up approach!
Product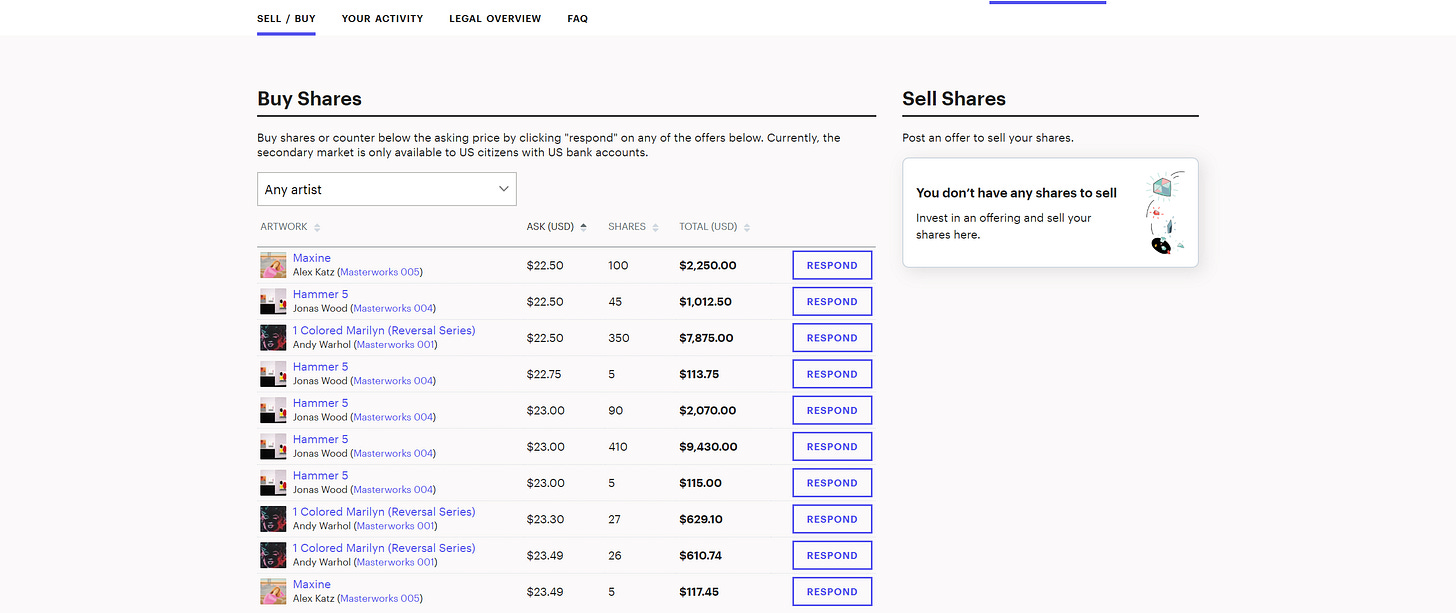 Unlike some alternative investment platforms, you don't have to be an accredited investor to start with Masterworks. You request an invitation, have a phone interview with the company, and then become a member. (I didn't go this far though)

🤔: Price can be judged as high and might represent a big cut into your eventual profit. Though, you're buying the expertise and a pre-vetted investment. On top of that, art is (historically) unaffected by market conditions. How worth is that?
👎: Low liquidity. From what I understood, the secondary market is still in beta. Hopefully, it will be up soon :)
👎: The account creation requires a phone call, the conversion rate must be hit by this non fully online process
👍: Investors (wannabees) platforms (one, two, three) are globally intrigued by the platform and its investment proposal. It's, by the way, an interesting distribution playbook to target investors looking to diversify their portfolio.
Mapping
During my research, I have identified a few collectibles investment platform (some of you sent me interesting companies as well). I thought it was an interesting exercise to make my own from scratch. Here is my first draft! Feel free to help me on that one :)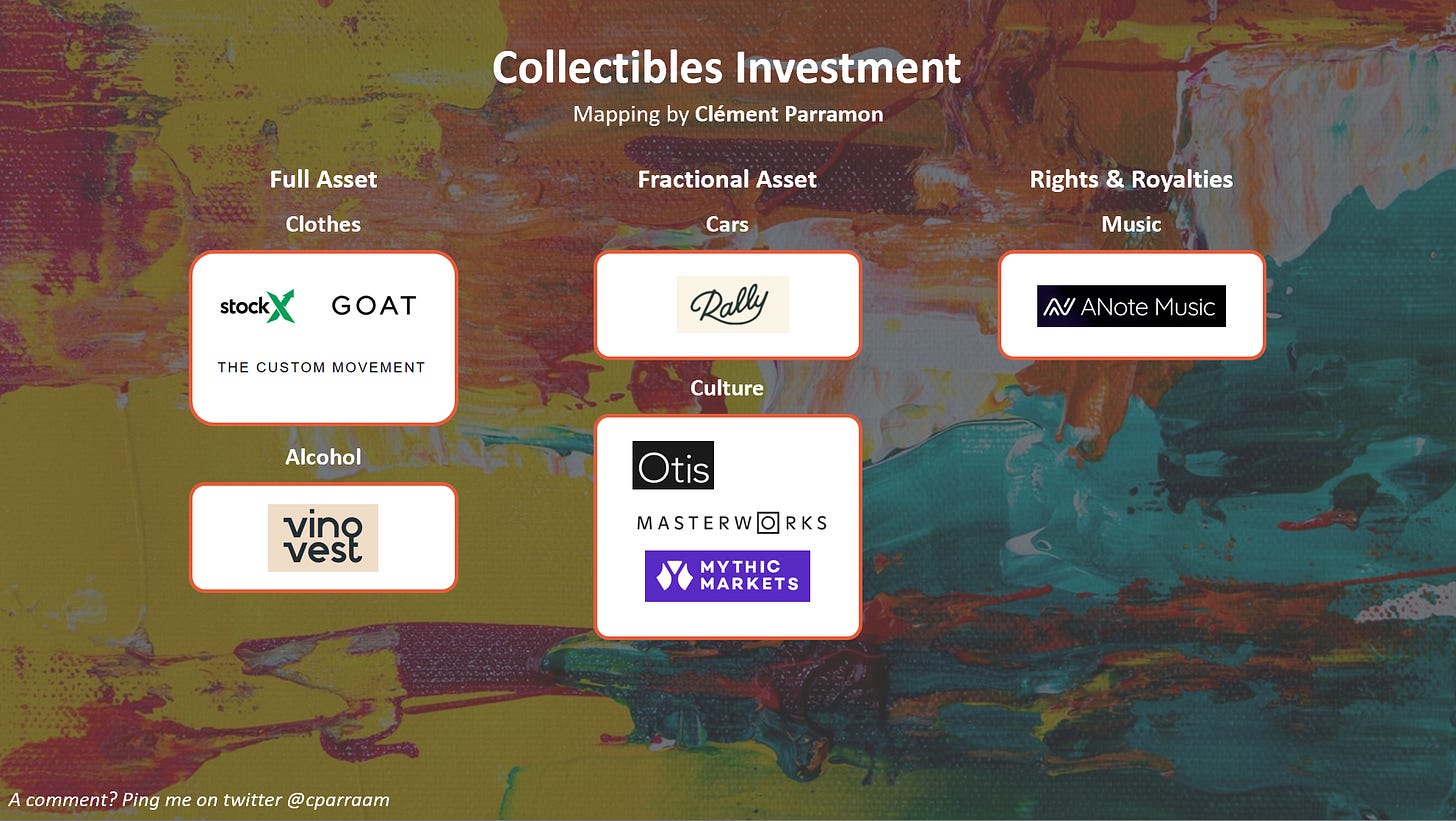 "Not cool men, you forgot us😤"
Alright, my bad! Please comment on this post/email so that I fix this oversight :)
---
Would you invest in the company?
I'm interested in having your opinion about the company :) What do you see as an opportunity and what are the challenges?
Here clearly, the lack of information makes it complicated to have a valid statement on where the company is going forward. Yet, the business is interesting with a strong value proposition, a dynamic market and in fine is about art 🎨
---
What is new about them?
# News 1 - They are recruting!
Check their job offer page if you are interested in joining the adventure (Location NY)
Did I miss something huge?
Hard to be right when you aren't close to the team. I try to eat as much content as I could in a short amount of time. If there is something worth reading, do let me know by replying to this email :)
---
See you next week 👋
If you enjoyed this, maybe I can tempt you with my Fintech newsletter. I write a weekly email full of market review, investment memorandum and news of the week :))
If you've enjoyed it please show some love to 

the thread

 on Twitter
❤️
---
Previous issues
+ News of the Week issues
---
📧 I'm clement.parramon@hub612.com and @cparraam is my Twitter
Ps. If you like what I'm doing with Parram please feel free to share it on your social network of choice. Also, I'd appreciate it if you forwarded this newsletter to a friend you think might enjoy it ✌️